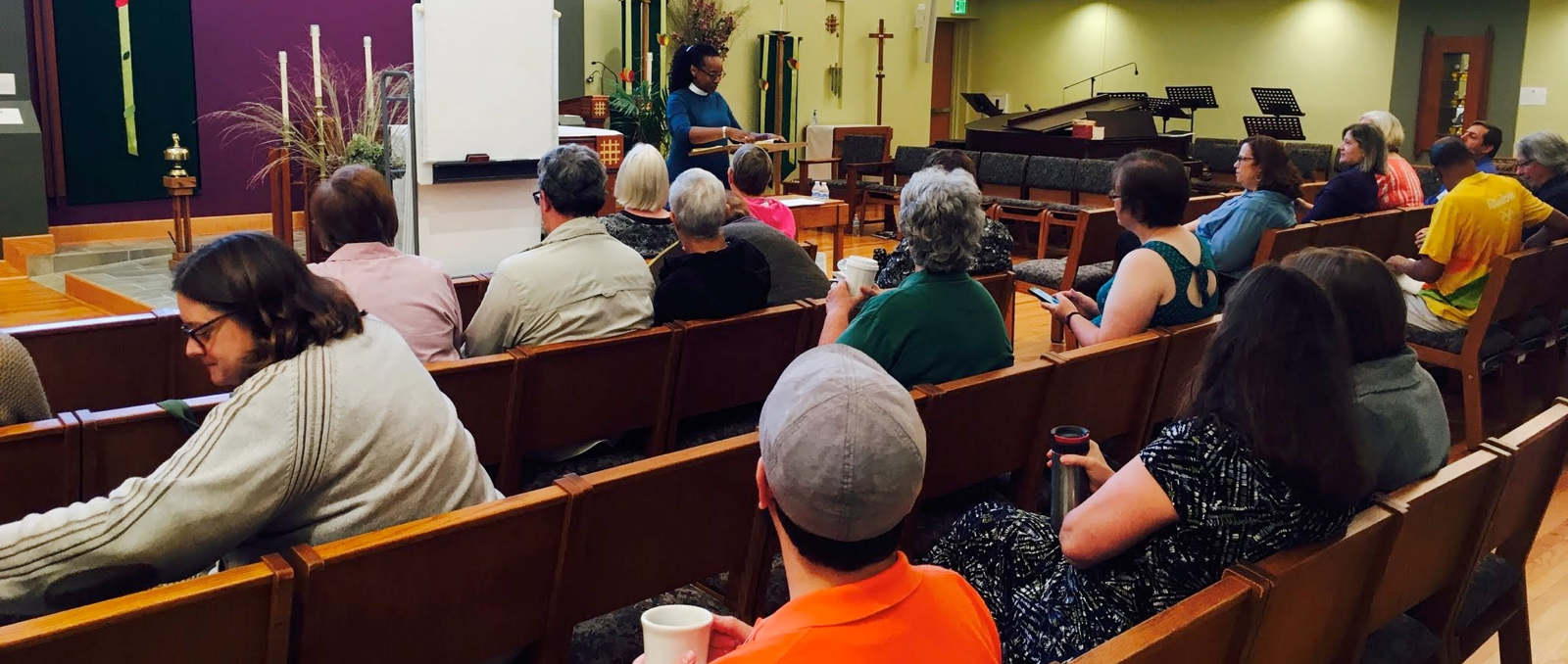 Adult formation is an important part of who we are as a community of faith. Since we believe that faith is a life long process of becoming, we see Adult formation as a journey with a few signs to point the way.
Jesus himself continued to grow and change as he developed his ministry so are we called to continue to grow, even as adults. Below you will find the latest Adult offerings. Please join us for a class. You never know, it might change your life.
Adult Faith Formation
DISCIPLE Bible Study is a program of disciplined, yet manageable Bible study aimed at developing strong Christian leaders. The study emphasizes the wholeness of the Bible as a revelation of God. It draws upon the work of scholars, the personal Bible reading and study of the participant, and dynamic group discussion to aid in the understanding of the Bible. Meets on Sundays between the services throughout the program year.
INQUIRERS CLASS is an introduction to the Episcopal Church and our weird and wonderful ways. It is offered annually for anyone new to St. Paul's and/or seeking to be Confirmed/Received into the Episcopal Church by the Bishop in the Easter Season. This class is appropriate for teens. Meets for 3 Saturdays duirng Lent from 10:00 a.m. – Noon.
EPIPHANY SERIES was new in 2023. This Zoom series brings in expert speakers to engage and equip us in our social justice ministries. Our first series featured author Ken Wilson who presented LGBTQ and Scripture: An Affirming View. Epiphany Series will be announced in December 2023. The series runs from 3-7 Sundays in Epiphany.
LENTEN SERIES 2024 will be a Zoom study of Amy-Jill Levine's book Entering the Passion of Jesus: A Beginner's Guide to Holy Week. Book description: Jesus' final days were full of risk. Every move he made was filled with anticipation, danger, and te potential for great loss or great reward. Jesus risked his reputation when he entered Jerusalem in a victory parade. He risked his life when he dared to teach in the Temple. His followers risked everything when they left behind their homes, or anointed him with costly perfume. We take risks as we read and re-read these stories, finding new meanings and new challenges. Meets 4-5 Wednesdays in Lent.