The Art Gallery at St. Paul's was started in 2015 by a group of dedicated artists from the congregation. Stemming from a vision of providing a space in downtown Brighton for local artists to display their work, several renowned art pieces have hung on the walls at St. Paul's.
Each exhibit is unique and highlights the many forms of art expression present in the wider community. Each exhibit lasts approximately 4 months.
Please contact the parish office if you are interested in exhibiting at St. Paul's.
Current Exhibit Information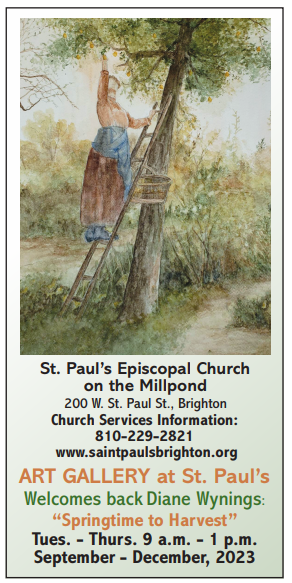 Springtime to Harvest: Diane Wynings
St. Paul's welcomes back artist Diane Wynings. Her exhibit "Springtime to Harvest" will be on display September – December 2023,
You can view the exhibit during office hours (Tuesday, Wednesday, and Thursday from 9am – 1pm – check St. Paul's Facebook page for office closures).
Artist Statement
I have always enjoyed art in many forms from my earliest memories. I have never had formal training but have taken private lessons at different times throughout the years. I currently paint with a group of women at a studio once a week.
In the 70's I started oil painting because a private teacher lived close, and I had the time. But my first love is watercolor. Watercolor comes with its own challenges. Learning to overcome those problems will be a lifelong goal of mine.
I started by business "Diane's Artistic Touch" in 2000. I specialized in faux painting and murals on ceilings and walls. After having both shoulder joints replaced, I went back to watercolor – easier on my shoulders.
My other love is history. It seems appropriate to marry the two passions in my art. Many of my paintings have a vintage feel. Along with my love of history, I love my family and its genealogy. I seem to be the keeper of the family stories, photos, and antiques on my side as well as my late husband's. My kids will have to deal with all of that.
I guess my philosophy of life is — There is always something to learn.