**The Art Gallery is not open to the public at this time**
The Art Gallery at St. Paul's was started in 2015 by a group of dedicated artists from the congregation. Stemming from a vision of providing a space in downtown Brighton for local artists to display their work, several renowned art pieces have hung on the walls at St. Paul's.
Each exhibit is unique and highlights the many forms of art expression present in the wider community. Each exhibit lasts approximately 12 weeks and can be viewed Monday through Thursday 9:30 a.m. – 2:00 p.m. or Sundays during worship times.
Please contact the parish offices if you are interested in exhibiting at St. Paul's.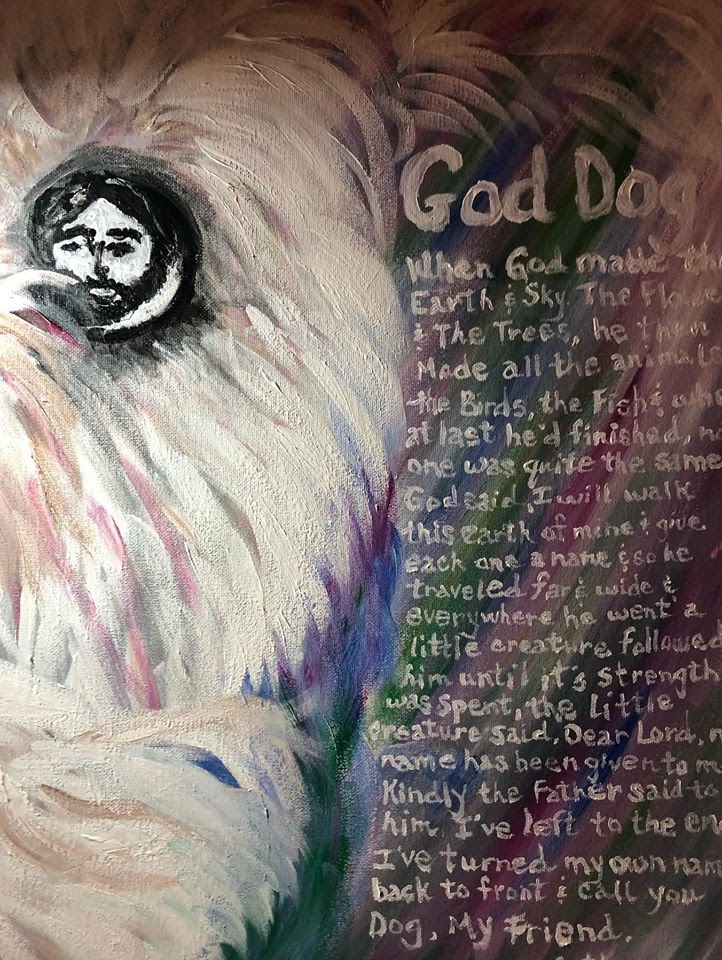 "Dog Spelled Backwards is God"
Artistic inspiration began at an early age for Jacquie Ritter. As a child, she enjoyed drawing & often did sketches of her dogs. She continued to study art as she grew older which eventually led to her journey with painting. Painting animals is her passion and she is often complimented on her abilities to capture the personality of the animal.
Earlier in Jacquie's career, she owned and operated Heavenly Bites, Custom Cakes, where she not only designed the cakes, but also "painted" the cakes with frosting. She has been commissioned for retail window displays and home murals. Jacquie has been featured on TV20's Morning Show with Amber Laflamme.
The Gallery at St. Paul's in downtown Brighton will be her first "official" gallery showing. Her work will be exhibited March – May 2020.
Jacquie lives in Brighton, where she works from her home studio, with her wife, the Rev. Deacon Jenny Ritter and their beloved Sharpei/Dacshund rescue, Batman. Her work can be custom-ordered or purchased directly through SpiritedArtistry.online or visit her on Instagram/Facebook for the latest news about where her pieces can be purchased.