The Art Gallery at St. Paul's was started in 2015 by a group of dedicated artists from the congregation. Stemming from a vision of providing a space in downtown Brighton for local artists to display their work, several renowned art pieces have hung on the walls at St. Paul's.
Each exhibit is unique and highlights the many forms of art expression present in the wider community. Each exhibit lasts approximately 12 weeks.
Please contact the parish office if you are interested in exhibiting at St. Paul's.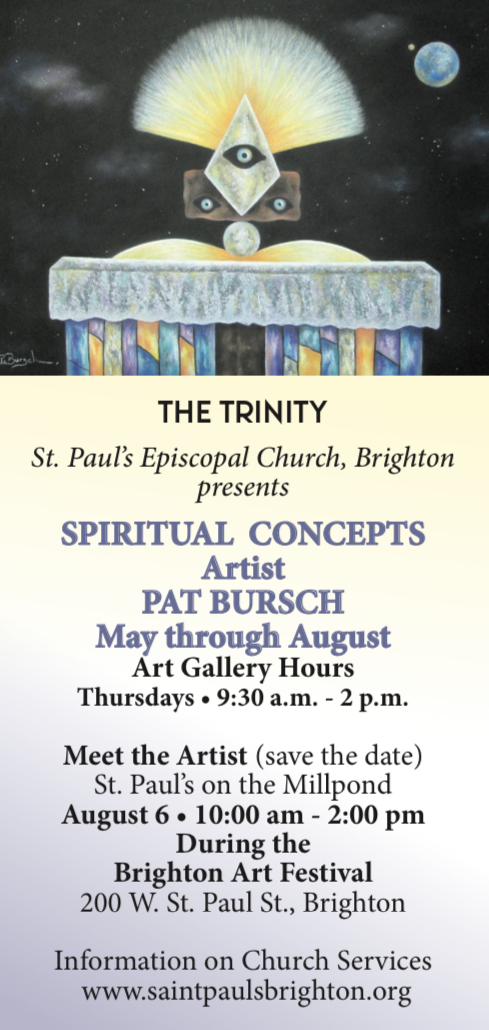 Artist Statement – Pat Bursch
I am a pastel artist whose favorite subjects are marine life and the insect world.  Interest in surrealistic art developed after a life time of realistic rendering and stylized drawings. Today my natural talent comes out in spontaneous expressive line sketches, as opposed to explanatory and realistic works. My whimsical sense of humor is expressed well in the surrealistic style.
I often blend the human figure into the environment, and sometimes in the form of fashion figures or faces. The majority of my work is creating pieces from nature and using our materialistic world in my art, to help tell the story. My surrealistic art is an expression of what is going on in our society, whether it is environmental, social issues, the human condition, or spiritual experiences. I am moved to produce works that range from serious to humorous.
I am captivated by the beauty and wonder of life, and create my art with a variety of subject matter. My personal style and technique is painterly, emotionally expressive, along with many human expressions that capture the situation. My goal is not so much for monetary gains, as it is to make a statement that has an impact on our society and planet.